Conviviality, Games, discovery

Federate your teams positively
You want to offer your teams an epic in an original setting to forge new links?
You are convinced that a team sharing strong moments is a team that is more communicative and promotes common projects?
We create tailor-made events for your employees. They will live positive experiences in group cohesion to see the emergence of a beautiful collective energy. Our passion is to create original concepts on the lands of Burgundy, in the heart of its most beautiful vineyards and the Basque Country.
Our know-how and our love of the profession is put at the service of your company, your employees and your values.
Keys for a successful team-building

Playful, tailor-made; innovative
Agence RP EVENTS offers fun activities in the heart of Bourgogne-Franche-Comté and the Basque Country.
Our team-building concepts are tailored to your goals.
Our animators and service providers are committed to making you live an original adventure and fully enjoy your stay.
The programs we offer encourage group cohesion, communication and awaken challenges.
La Petite Vadrouille de Bourgogne ©
An original and unique exclusivity
Agence RP EVENTS offers you a unique journey in the footsteps of the very famous film by Gérard Oury – La Grande Vadrouille. From this encounter between culture, nature and wine tourism was born : La Petite Vadrouille de Bourgogne®…
Why choosing
Agence RP EVENTS ?
Because our experience is 20 years old,
Because we are professional and passionate,
Because we understand and help achieve your goal.

To make men and women enthusiastic about sharing and being together.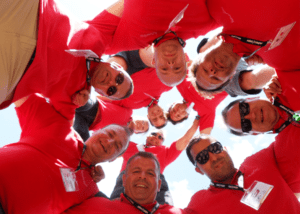 Souvenirs
To build the future
The men and women of your company are the living forces that make it exist. Having memories in common, strong experiences, a shared history has a unifying impact on your teams and the life of the company. This is what we offer you through incentive and team building: experience strong, positive moments, to look towards tomorrow, together.
Diagnostic.
This is an important step.
We analyze and position your objectives to formulate together tailor-made for your event.
Planning.
We translate your expectations into a methodically orchestrated scenario :
place, decor, logistics, duration, supervision, animation...
D Day.
Availability, flexibility, pedagogy, all the energies of communication are activated. Our team is at your disposal to guarantee the success of your professional event.
We can be reached
every day
from 9am to 7pm..
Our teams are at your disposal to study your needs and expectations with you !