A team of enthusiasts

and event experts
On the lands of Burgundy and in the heart of its most beautiful vineyards, from the beaches to the mountains of the Basque Country, Agence RP EVENTS composes for you the Event of your expectations.
The Haute Couture of events has its requirements: anticipation, creation, precision.
Today Agence RP EVENTS celebrates 20 years of experience and passion in the service of its customers.
Roland Petriccione-Queheillechipy
Directeur of Agence RP Events
Maud Collin
Administrative Assistante
and communication manager
Charles Marchica
MCréation
Deco, Stage management, DJ
Jacques Henri
Mr Mc Gyver
Hervé Corcia
Nation Systems
Computer scientist
Julien Poitoux
Perfect Live
Sonorisation, éclairage, vidéo
Christophe Henry
Constance Production
Director
Christophe Lörsch
Photographer and Videographer
Jérémy Joux
Photographer and Videographer
Anna Fontaine
Oxawebshop
Webmaster
Sandrine Lanaud
Oenologist Guide
(French)
Jean-Pierre Renard
Oenologist Guide
(Français / Anglais)
Christine Duponnois
Tour guide and wine tourism
(French / English)
Alexia Papin
Tour guide and wine tourism
(French English)
Marion Adam
Tour guide
(French English Spanish)
Natalie Fromheim
Tour guide
(French)
Véronique Mangold
Tour guide
(French)
Sylvain Fauvé
Oenologist Guide
(French)
Our skills

at the service of your image
Each project deserves the greatest care, which is why we select and work with passionate service providers recognized in their field. An event, a stay, a successful film, is above all an attentive, passionate and trustworthy team working together to ensure the quality of your project.
Here are, among others, the areas of intervention and services that we can provide:
Company anniversary
General Assembly
Concert
Agreement
Congress
Conference
Company party
Provision of staff (hostesses, animators)
Inauguration
Product launch
Open doors
Foundation stone laying
Plenary meeting
Technical control
Merit award
Seminar
Gala
Show
Team Building….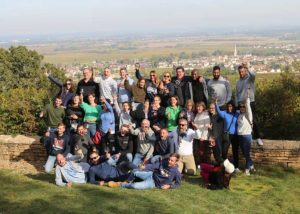 Pourquoi choisir
Agence RP EVENTS ?
Because our experience is 20 years old,
Because we are professional and passionate,
Because we understand and realize your goals,
To make men and women enthusiastic
to share and be together.
Diagnostic.
This is an important step.
We analyze and position your objectives to formulate together
tailor-made for your event.
Planning.
We translate your expectations into a methodically orchestrated scenario.
place, decor, logistics, duration, supervision, animation...
D Day.
Availability, flexibility, pedagogy, all the energies of communication are activated. Our team is at your disposal to guarantee the success of your professional event.
We can be reached
every day
from 9am to 7pm.
Our teams are at your disposal
to study your needs and expectations with you !