Audiovisual production

Think big !
We have the ability to carry out your audiovisual productions from A to Z. In partnership with Constance Production, we control the entire process from script development, location scouting, filming, post-production, color grading, recording and mixing, composition of original music, foreign translations and dubbing…
Agence RP EVENTS is here to help you achieve:
Institutional & Corporate film
Promotional movie
Movie ad
Streaming broadcast
Clip
Reporting
HD and Ultra HD multi-camera capture
Streaming…
Agence RP EVENTS, in association with Constance Production, has its own fleet of equipment: video control up to 20 cameras (Ultra HD), fleet of filming cameras ranging from 4K to 6K, cinema lights and machinery (Travelling, Crane, Drones (aerial and underwater), Cablecam,…).
New, "Dakodak Studio" photo and video shooting studio of 150m2 with 1 technical platform of 110 m2 including a 3-sided white cyclo, green background, black background… Equipped with a living room, make-up room, showers/toilets, meeting rooms, unloading dock, canteen…
New, "Dakodak Ciné": 50-seat cinema projection room equipped with Full HD and 4K laser video projectors as well as super 16, 16 mm and 35 mm projectors, Dolby Stereo sound.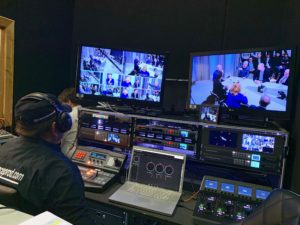 Why choosing
Agence RP Events ?
Because we love our job and Constance Production too. Recognized in the audiovisual sector as a key player in recording and for equipment that is always at the cutting edge of technology, we know with Constance Production how to enhance your profession, your event, create original, high quality, positive and effective!
Because we know how to plan, orchestrate, organize an event from A to Z, but above all, because we know how to listen and adapt to your needs and expectations.
Institutional
Principauté de Monaco
Groupe La Poste
Groupe Suez
Entre Saône et Grosne
Pernod Ricard
Groupe Girardot
Enedis
Groupe Cayon
SNCF
EDF
Maison Goichot
Domaine et Châteaux réunis
Cité Internationale de la Gastronomie et du Vin de Dijon
Cité des Vins de Bordeaux
Atol Beaune
Television
Les carnets de Julie avec Julie ANDRIEU (France 3)
Chef's Table (Netflix)
Pourquoi chercher plus loin (France 3)
Chronique d'en haut (France 3)
Vie de flics (TF1)
Sept jours sept nuits (TF1)
Le plus beau pays du monde (France 2)
Vétérinaires : leur vie en direct (TF1)
Série TV : The Missing (BBC)
Cinema
« Dheepan» by Jacques AUDIARD
(Palme d'Or Festival de Cannes 2015)
« Brice de Nice 3, cassé le 2 » by James HUTH
« Ce qui nous lie » by Cédric KLAPISCH
« Belle et Sébastien 2 » by Christian DUGUAY
« L'école buissonnière » by Nicolas VANNIER
« Overdrive » by Antonio NEGRET
« Au revoir la haut » by Albert DUPONTEL
« Jour J » by Reem KHERICI
« Belle famille » by Jean Paul RAPPENEAU
Advertising
Apple
Samsung
Victoria Secret
Dior
Peugeot
Renault
Hyundai
Groupama
Uber
Diagnostic
This is an important step.
We analyze and position your objectives to formulate together tailor-made for your event.
Planning
We translate your expectations into a methodically orchestrated scenario :
place, decor, logistics, duration, supervision, animation...
D Day
Availability, flexibility, pedagogy, all the energies of communication are activated. Our team is at your disposal to guarantee the success of your professional event.
We can be reached
every day
from 9am to 7pm.
Our teams are at your disposal to study your needs and expectations with you!